<!!--COLUMN 2--!!>



The Hamilton St. Patrick's Day Parade @ Hamilton scheduled for this Saturday, March 24th, WILL take place as scheduled! All times and events are the same as previously noted.



* * * * * * * * * * * * * * * * * * * * * * * * * * * * *


The 2018 AOH Golf Tournament is SOLD OUT for foursomes!! This year's tournament is scheduled for Friday, June 15th at Princeton Country Club. The proceeds from this well-attended annual event will benefit the Hamilton St. Patrick's Day Parade, as well as the Veterans' Memorial, Breast Cancer, AOH Scholarships, and the Trenton AOH.

There are still opportunities to provide support through a variety of sponsorships and tricky tray donations. Please click the link below to obtain a form with more info. If you have any questions please contact Fred York at 609-213-5723 or via e-mail at fyork@aol.com

Click Here to download a 2018 Golf Sponsorship Form



* * * * * * * * * * * * * * * * * * * * * * * * * * * * *


2018 PARADE PINS NOW AVAILABLE | Available for $5.00. You can get your commemorative pin at the Trenton AOH Club at 2419 Kuser Road or you can contact Joe DiPaolo via e-mail at: Jmdjr2@msn.com or give Joe a call at 609-610-0047.

Thank you for your continued support of the St. Patrick's Day Parade at Hamilton!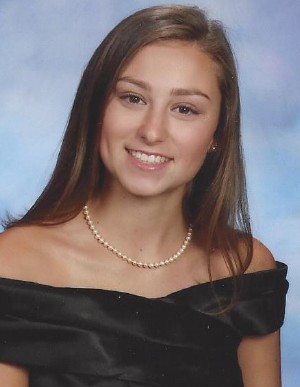 Madison Paternostro named Miss St. Patrick 2018!
The St. Patrick Parade and Scholarship Committee at Hamilton has selected a Steinert High School senior Madison Paternostro as its 2018 Miss St. Patrick and $2,000 scholarship winner . She will help lead the March 10 St. Patrick's Parade in Hamilton.

At Steinert, Madison is a member of the National Honor Society, Captain of the Varsity cheerleaders, a four-year player on the school's varsity lacrosse team and a Rotary Club Spartan of the Month student. She is most proud of being the president of the Key Club and has significantly increased its activities in the community.

Madison is the proud daughter of Matthew and Christine Paternostro and has elected to attend the University of High Point in North Carolina where she will major in sales.

In addition to Miss St. Patrick, the committee selected as runner up Emilia Siracusa, a senior at Villa Victoria Academy. Emilia will receive a $1,000 scholarship and has selected Montclair State University to further her education. Emilia is the proud daughter of Joseph and Brenda Siracusa.
Kelly Yaede named 2018 Hamilton St. Patrick's Day Parade grand marshal!
[PHOTO: Pictured with the Mayor on right is Parade Chair Vince McKelvey and to the left is trustee Pat Ryan.]

The Grand Marshal of this upcoming year's St. Patrick's Day Parade will be a familiar face to Hamiltonians.

That's because their Mayor – Kelly Yaede – was selected as the 33rd annual parade's Grand Marshal, which was recently announced during a parade kick-off ceremony at the Ancient Order of Hibernians hall in Hamilton.

Joking that she had once been a "runner up" as Miss Saint Patrick as a teen, Yaede expressed her appreciation for the honor of being selected to lead this year's parade.

"Irish tradition and culture is woven into the heart of our community," said Yaede in her remarks. "Our local Irish American community continues to be an integral part of our entire community – and each March, we celebrate that through this annual parade."

Hamilton's Mayor received her honorary Grand Marshal sash from last year's Grand Marshal, Tom O'Reilly.

"Each year, we select a Grand Marshal that has impacted the Irish American community is a positive way; and Mayor Yaede has been very supportive of our parade and our efforts to preserve and promote Irish culture during her tenure," said Parade Chairman Vince McKelvey.

This year's 1.5-mile-long parade – the 8th time it will march down Nottingham Way in Hamilton – will take place on Saturday, March 10, 2018 with a 12:30 PM opening ceremony at Nottingham Fire Company followed by a 1:00 PM parade start.

Over the course of the lead up to the parade, several events to support the effort will take place, including a parade Grand Marshal luncheon that will take place early in 2018.


<!!--STOP. NO TEXT BELOW THIS LINE--!!>